Welcome
Gutter Sweeps, Inc. has been providing rain gutter cleaning, repairs and new installations of gutters for the South Florida area for over 22 years. As a family owned and operated business, we will give you friendly prompt and honest service. We handle single family homes to large industrial complexes for all your rain gutter maintenance needs. We carry $1 million dollars of insurance coverage to protect you, the owner, from liability. We pride ourselves in taking care of your exterior, windows, flowers, and deck while we work.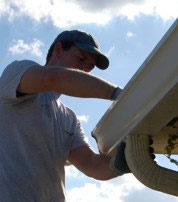 Fully Licensed and Insured
Family Owned and Operated
On time Service
Highly Trained Professionals
Over 3,400 customers since 1994

"Never get on a ladder again....Let us do it for you."
Why clean your Gutters?
Gutter cleaning is sometimes the last thing you think about. But preventive maintenance of your Gutters can prevent costly repairs. Dirty or clogged gutters can lead to leaks or overflowing of water. Improperly maintained Gutters can lead to problems like rotting fascia boards, roof leaks or even rodent infestations. When it comes to clogged gutters and downspouts, we have seen it all!
Safety
When working on ladders or roofs, safety is of prime importance. According to the American Academy of Orthopedic Surgeons - each year, more than 511,000 people are treated in hospital emergency rooms, doctor's offices, clinics and other medical settings because of injuries related to ladder use. It is best to call a professional. Leave the job to us, we have the experience.